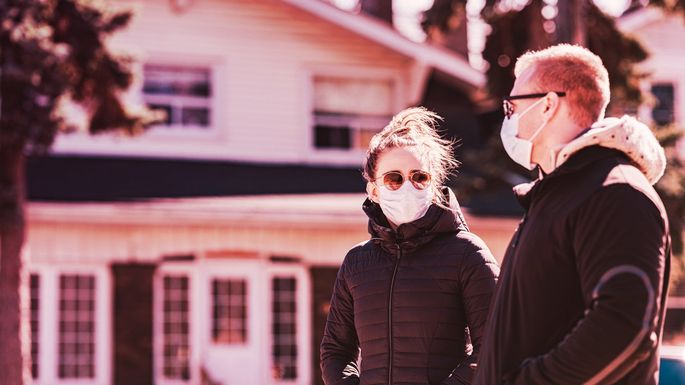 By Margaret Heidenry, Realtor.com | Apr 7, 2020
In the best of times, shopping for a house is a complicated and involved process—a big-ticket proposition involving lots of shopping around and meeting a ton of people so you're 100% sure you've picked the right place, at the right price. But, of course, these are not the best of times.
Now that the coronavirus pandemic has people across the country hunkering down at home to lower their exposure levels, even the most determined home buyer might be wondering: Is it safe to shop for a house right now?
While risk is a personal decision, the real estate industry is adapting to provide ways to go about home buying safely during the coronavirus pandemic. You can now do many things at a safe social distance, or even remotely, when it comes to buying a home that you may not have considered doing in the past.
Here are all the ways in-person checkpoints to buying a home have changed to keep you safe during the coronavirus pandemic.
Virtual home tours
Crowded open houses with a plate of cookies for everyone to grab are a thing of the past—at least for now. Instead, you've got virtual open houses and video tours.  In California, this is a reasonable option where despite strict stay-at-home ordinances, Real Estate sales is still considered an essential function in our communities; although we work hard and creatively to keep it safe for ourselves and for our clients.
There are several ways to virtually tour a home. Along with photos, many listings were already starting to incorporate videos or virtual reality tours.  You'll be able to tour the home, room by room, without physically stepping onto the property.
However, these videos are filmed and edited, so you may not be able to see every nook and cranny. If you want to do a deeper dive, many agents will accommodate you.  FaceTime tours provide buyers a personalized experience of the property without having to leave their home.
Granted, we're not necessarily saying you should buy a house without seeing it in person, unless there's no choice in the matter. Nonetheless, it's smart to do what you can remotely to whittle down your options so you can choose what's worth an in-person visit, now or later.
Also keep in mind that in late March, the U.S. Department of Homeland Security declared residential real estate sales an "essential service," although certain state officials, including New York Gov. Andrew Cuomo, have explicitly forbidden home showings. And even if they are allowed, agents, home sellers, and buyers must all be willing to make them happen.
When in doubt, check with your agent and local government for more information, and know that things could change as this pandemic progresses.
Remote mortgage pre-approval
"One smart way to stay safe right now is to work with a loan officer who is set up to work remotely," says Andrina Valdes, executive sales leader and chief operating officer of Cornerstone Home Lending in San Antonio.
Some lenders had already made the entire mortgage process digital long before social distancing was needed. And now, many more have jumped on board out of necessity.
The first step is to interview a few loan officers over the phone or by video chat. Since mortgage interest rates are all over the map these days, it's extremely important to shop around and compare what they're offering—and make sure they're comfortable conducting all steps of the transaction online.
Ideally you want a lender that allows you to track your loan progress, view educational resources, and stay in touch, all without leaving the house.
In order to get pre-approved for a loan, the lender will need to review your income, debt, credit history, and other factors—and you'll need to submit paperwork verifying all of the above.
Luckily, most of this paperwork should be available online, such as pay stubs, tax returns, and bank statements. If you're unsure how to access them, a tech-savvy lender should be able to help. (Here's more on the paperwork needed for mortgage pre-approval, and why getting pre-approved matters.)
Check out realtor.com/mortgage to find local lenders and to figure out how much home you can afford.
Remote home inspections
"We are offering clients the option of doing a remote inspection, where we inspect the house alone and review the findings with them via a videoconference," says certified home Inspector Welmoed Sisson of Inspections by Bob in Maryland and author of "101 Things You Don't Want in Your Home."
At a remote home inspection, inspectors take a lot more pictures than they might have in the past so clients can get a good idea of where the issues are.
"We also take videos if the issue is something moving that shouldn't, such as a loose handrail or wobbly toilet," adds Sisson. "While we're in the house, we use gloves, wash our hands, and wipe down things we touch with antiseptic cloths."
Once the report is completed, Sisson sets up a video call and emails clients PDFs of background information about why inspectors test what they do.
"Through screen sharing, I go through a slideshow of the pictures, answering questions as we go," says Sisson.
Virtual home appraisals
Home appraisals required by a lender generally include a site visit, which is not possible in some parts of the country where this is not considered an essential service. Luckily, appraisals pertain only to those getting loans, so cash buyers can skip this process entirely. But if you are getting a mortgage, fear not.
The appraiser then uses comparable properties for the reports. While these methods may not be to the penny in terms of value, they are relatively accurate and allow lenders to continue operating.
Remote home closings
In-person home closings—where all parties come together to sign contracts, swap keys, and shake hands—are, for the most part, not happening right now (especially the shaking hands part). However, most closings require some face-to-face interaction, since people have to sign documents and notaries need to stamp them in person.  In California, you can sign the closing paperwork at your home–whether in the state or in another part of the country!
One agent had a closing where all parties showed up on the street where one of the attorneys lived.  Another conducted the closing by Zoom video.
To search homes in the Palm Springs/Rancho Mirage area, visit my website at www.DesertRealtyExpert.com.  Even if you are wanting wait things out, I'm available at any time for your questions or to set up a personal search of homes that meet your needs and desires.